Hope Orthopaedic

-

Ace Brace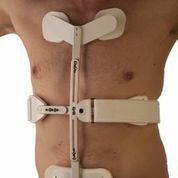 The Ace Brace is a hyperextension orthosis. The simple front closure of this "C.A.S.H.-style" brace makes donning and doffing easier for geriatric patients and those with arthritic hands. Its one-size-fits-most comfortable design conveniently reduces inventory costs while providing a semi-customizable fit for each patient's needs. The PS and PV versions are available with a V-style pectoral top which eliminates sternal pressure and throat impingement.
 Features
Fully adjustable:  One size fits most, maximum comfort
Articulating pectoral interface:  Comfortable, relieves sternal pressure
Front closure:  Easy to don and doff
Lightweight:  To improve patient compliance
Indications
Flexible thoracic kyphosis, stable compression fractures between T-7 and L-2, osteoporosis.