Lantz Medical

-

Stat-A-Dyne® Knee
The Stat-A-Dyne Knee offers many advantages over other competitive devices. Semi-custom and custom cuff options ensure a correct fit with every patient. The Stat-A-Dyne knee also offers a bi-directional hinge for use in both flexion and extension that is capable of Dynamic and Static-Progressive stretch. The Stat-A-Dyne Knee's anti-migration cuff and strapping system eliminates splint migration for End Range stretch.
Features Include
Bi-directional hinge that offers infinite ROM

Static and/or dynamic tissue elongation therapy in one product

Custom and semi-custom cuffs for maximum soft tissue capture facilitating terminal end ROM

Dynamic mode (LLPS) may be used for soft to moderate end feels during long rest periods

Static Progressive mode (SPS) may be used to address moderate to hard end feels

Isolated capsular stretch
Videos
J.I.M. Medical is an exclusive distributor for Lantz Medical products in Wisconsin and northern Illinois.  Availability of these products outside of these areas may be restricted.  
Purchasing with your insurance is easy.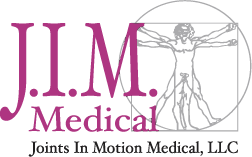 We have phone support staff available during regular business hours to take your order with little or no waiting.
Please Call
(866) 546-4276
"I'd like the Lantz Medical Stat-A-Dyne® Knee!"